As a valued TSheetsPRO, you're part of our team. We wanted to give you a heads up on some upcoming pricing and offering changes that may affect you or your new clients.
Beginning September 16, 2019, TSheets will increase its user fee for all new accounts to $8 per user, per month for customers billed in USD. The monthly base fee will remain at $20. Wholesale prices for new customers will also be adjusted accordingly. This pricing change will not impact existing TSheets customers, or customers billed in Canadian Dollars (CAD) or Australian Dollars (AUD) at this time.
The new package comes with our most-loved features and now includes scheduling at no additional charge. We've also taken to heart our customer feedback, so we're including one admin with the monthly base fee, as well as offering volume pricing for workforces with 50+ employees ($6 per user, per month).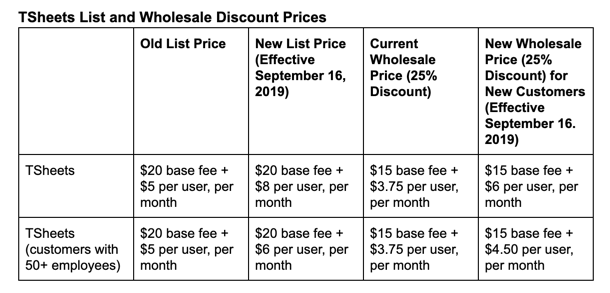 Note, exclusions from the price increase include: TSheetsPRO accounts for bookkeepers, accountants, and accounting firms, which will remain free for your firm's use.
Over the last decade, we've invested heavily in TSheets' innovations to bring your clients time tracking and scheduling solutions that help them eliminate manual time entry, streamline the payroll process, and gain real-time insights into their business. TSheets customers save 6% on gross payroll costs, save three hours per payroll run, and add 11% more billable time to their invoices, on average, by automating time tracking.*
The pricing change will enable us to continue to deliver the highest quality products and customer service, as well as drive more improvements that help your clients better manage their businesses. Stay up to date on all the latest TSheets features and enhancements. We have some exciting new innovations and offerings in the works that we will share with you closer to release!
We really appreciate your partnership and continued support of TSheets.
Sincerely,
Chad Williams, TSheets PRO team
208-314-3278
prosales@tsheets.com